On her third anniversary of being cancer free Madalyn McCormick was made aware that it had returned.
She made her way to Auburn for two years of college where she became ill and knew from experience that the cancer was back.
"I wanna say I was shocked, but I kind of knew it was back," McCormick said. "It's a different kind of sick. It's not like a cold."
McCormick was diagnosed with stage III Hodkins Lymphoma on Dec. 27, 2013 and again in April 2017. She is now a junior in family studies.
During her time at Auburn she began working at Toomer's Drugs as a soda jerk. She said she thoroughly enjoys working with the Toomer's team and loves the game day rush of customers.
McCormick is a shift leader and takes responsibility for the store when the managers are out. Her manager, Michael Overstreet, said she is "invaluable" to the store's maintance and leadership.
McCormick said the final diagnosis took time and with her doctor being in Mobile, she was out of work a good bit before she eventually moved home. She said Toomer's management were always understanding and kind beyond measure.
Toomer's has announced they will be hosting a benefit weekend for McCormick on July 22-23. All proceeds will go to help with McCormick's medical and living expences.
"I couldn't imagine anyone not wanting to do this," Overstreet said. "Anyone that has met her knows what a wonderful young lady she is and we just want to be able to help her any way we can."
This is the first benefit of this kind for Toomer's Drugs and Overstreet said a special lady like McCormick deserves it.
Fellow students and employees will be donating all of their tips during the benefit as well. The benefit begins early online on July 20 for those traveling.
"It's insane that they are doing this," McCormick said. "You never realize how much of a support system you have until something happens."
She said the Toomer's staff work long hours together, close up shop and hang out more.
"It's a family," McCormick said.
McCormick said Toomer's a great place to work because of the customer's excitement as they get lemonade or a crisp new Auburn shirt.
She is happy to be home with her family, as she has been having chemotherapy treatments from about two months now.
---
Continue reading below...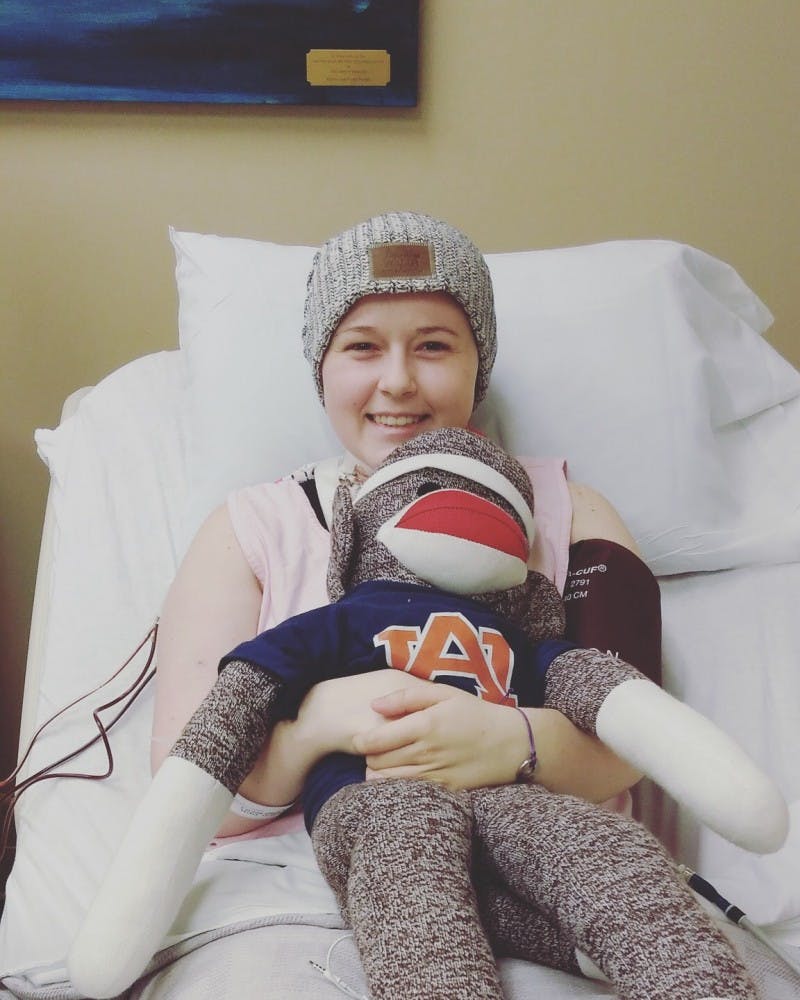 ---
McCormick said her first round of chemotherapy didn't pan out and at the moment she is on an experimental regimen.
"It's a waiting game," McCormick said.
Although she experienced some homesickness when she first arrived in Auburn, McCormick said after living on her own she's found that her parents can drive her crazy at times.
Despite being home and away from the city she loves, McCormick reminds upbeat, positive and joyful. Overstreet said she has the personality and attitude everyone wants to be around.
"If you aren't positive, you are just going to make yourself feel worse," McCormick said. "You're already in a rough situation and things might not be great, but when you try to be positive and happy about things it makes it all better. There is always something to be grateful for."
"We are counting on people to help us help her," Overstreet said. "It's a great opportunity to support a great young lady."
McCormick looks forward to moving back to the Plains and taking her place behind the lemonade counter.
"I love Auburn," McCormick said. "No one can keep me away."
---
For more information about Madalyn McCormick, click here.
Share
---
---